Commander wanted!
Drive giant robots, build an army of a thousand Fleas, move mountains if needed, bury the enemy at all cost!
Real time strategy.
Physically simulated units and projectiles.
Terrain manipulation.
100+ varied units with unique abilities.
Singleplayer campaign.
Challenging, non-cheating AI.
Multiplayer 1v1 - 16v16, FFA, coop.
Multiplayer online campaign.
Really free, no in-game currency, no unfair multiplayer.
Fully Utilized Physics
Simulated unit and projectile physics is used to a level rarely found in a strategy game.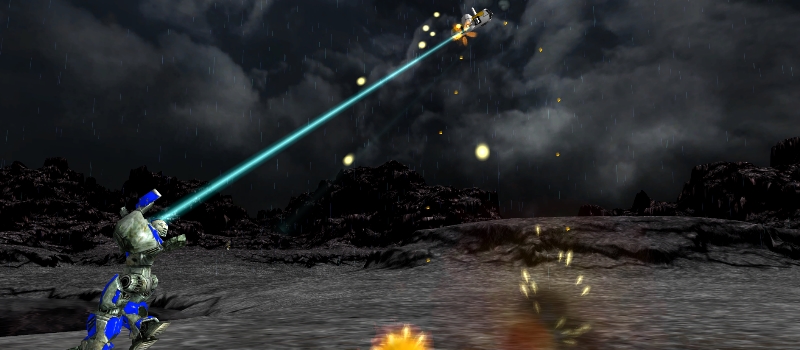 Use small nimble units to dodge slow moving projectiles.
Hide behind hills that block weapon fire, line of sight and radar.
Toss units across the map with gravity guns.
Transport a battleship to a hilltop - for greater views and gun range.
Manipulate the Terrain
The terrain itself is an ever-changing part of the battlefield.

Wreck the battlefield with craters that bog down enemy tanks.
Dig canals to bring your navy inland for a submarine-in-a-desert strike.
Build ramps, bridges, entire fortress if you wish.
Burn your portrait into continental crust using the planetary energy chisel.
Singleplayer Campaign and Challenging AI
Enjoy many hours of single player and coop fun with our campaign, wide selection of non-cheating AIs and a survival mode against an alien horde.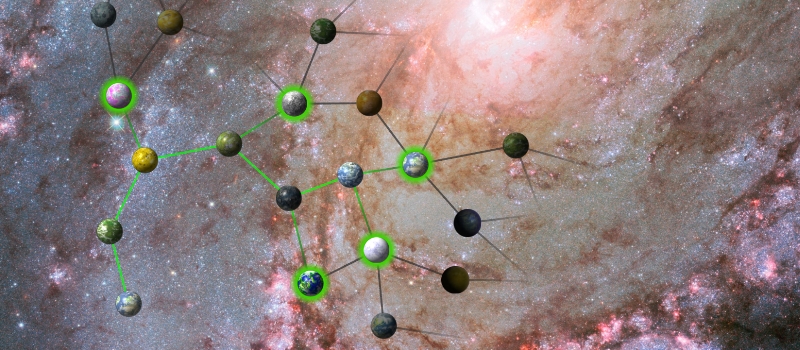 Explore the galaxy and discover technologies in our singleplayer campaign.
Face a challenging AI that is neither brain-dead nor a clairvoyant cheater.
Have some coop fun with friends, surviving waves of chicken-monsters.
Cloaking? Resurrection? Tough choices customizing your commander.
Casual and Competitive Multiplayer
Zero-K was built for multiplayer from the start, this is where you can end up being hooked for a decade.

Enjoying epic scale combat? Join our 16v16 team battles!
Looking for a common goal? Fight AIs or waves of chicken-monsters.
Prefer dancing on a razor's edge? Play 1v1 in ladder and tournaments.
Comebacks, betrayals, emotions always running high in FFA.
Want to fight for a bigger cause? Form a clan and join PlanetWars, competitive online campaign with web-game strategic elements, diplomacy and backstabbing.
Power to the People
We are RTS players at heart, we work for nobody. We gave ourselves the tools we always wanted to have in a game.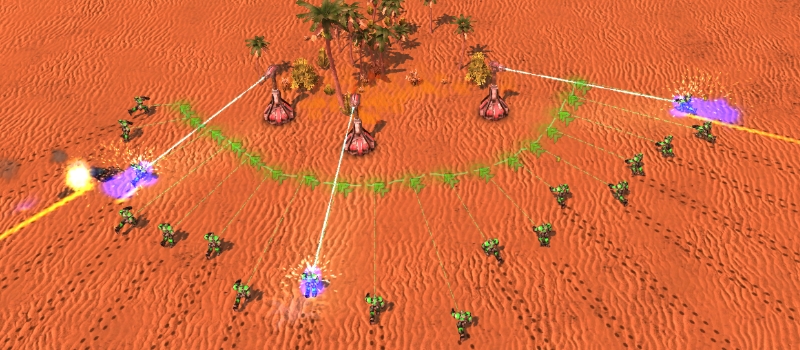 Do what you want. No limits to camera, queue or level of control.
Paint a shape, any shape, and units will move to assume your formation.
Want to spend more time on tactics? Use construction priorities.
Want to focus on economy? Order units to kite, strafe or zig zag bullets.
Plenty of Stuff to Explode Explore
Zero-K is a long term project and it shows, millions hours of proper multiplayer testing and dozens of people contributing ever expanding content.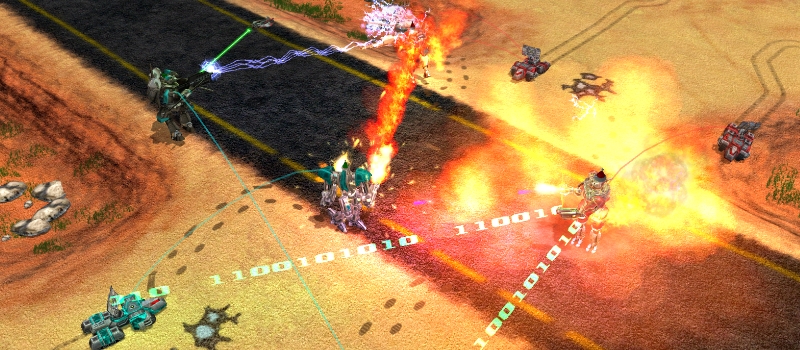 Learn to use all of our 100+ units and play on hundreds of maps.
Invent the next mad team-tactics to shock enemies and make allies laugh.
Combine cloaking, teleports, shields, jumpjets, EMP, napalm, gravity guns, black hole launchers, mind control and self-replication.
Tiny flea swarm that clings to walls?
Jumping "cans" with steam-spike?
Buoys that hide under water to ambush ships?
Mechs that spew fire and enjoy being tossed from air transports?
Carrier with cute helicopters?
Jumping Jugglenaut with dual wielding gravity guns?
Meet them in Zero-K!
1v1 Tournament August 24th 2019

There will be a 1v1 tournament at 10:00 UTC on Saturday August 24th. (Note this is ~8 hours earlier than recent tournaments!) Click
here
to see the tournament thread.
Posted by




Aquanim
3 days ago -
comment
Zero-K v1.7.8.2 - Superweapon Balance and Gunship Buffs

In this version we take a closer look at superweapon balance and buff some gunships. As is the way with superweapons, they ended up more expensive but also more awesome. The gunship buffs are more experimental and aimed at producing more variety in air play.
The new save/load system has been fixed and re-enabled. This system saves many more details about the game, so report any new issues you find. Some other notable other changes are the performance improvement for Tremor, fancier unit textures, friendly fire fixes, and Ravens that are better at bombing on tall cliffs.
Matchmaking
Added Frosty Cove, Crubick Plains, Frostburn, Shimmershore.
Removed Into Battle, Onyx Cauldron, Shifting Sands, Izki Channel.
Balance
Some of the gunships have been left behind by the evolving nature of balance and meta. Some (Revenant) were never that good. With these changes we may see more than Nimbus, Trident, and Krow.
Wasp:
Cost 260 -> 240
Health 600 -> 850
Speed 3.1 -> 3.2
Gnat:
Health 350 -> 420
Damage 600 -> 700
Range 180 -> 160
Locust:
Turret arc 160 degrees -> 180 degrees
Buffed DPS by 4%
Harpy:
Revenant:
Cost 900 -> 850
Health 3400 -> 3600
Manoeuvrability buffed by 11%
Range 300 -> 270
Many players noticed last month's Zenith buff so we have taken a closer look at the balance between superweapons. Disco Rave Party, at 36k cost, is now the cheapest, which is appropriate for its relatively low range and DPS. Starlight is no longer countered by terraform and has a healthy range advantage over Zenith, so it is a bit more expensive.
Disco Rave Party:
Reload time (for each weapon type) 6.1s -> 6s
Zenith:
Cost 32k -> 40k
Damage 2000 -> 1600
Stockpile rate 1.2s -> 1s
Fixed a bug that caused it to be unable to fire at max range, resulting in a range buff of 8800 -> 9000
Starlight:
Cost 40k -> 45k
'Aiming' Laser DPS 5400 -> 4500
Main Laser damage 5400 -> 18k
The Main Laser is now extremely good at cutting through terrain.
Range 9000 -> 10500. The build UI shows 10000 range to account for the effect of shooting a laser from high in the sky.
Light Particle Beam Commander weapon:
DPS 180 -> 210
Range 310 -> 300
Made Light Particle Beam and Heavy Particle Beam consistent with the -25% DPS of Disruptor Ammo.
The line of sight of land units launched into the sky is now larger. In terms of a 3D shape, line of sight is now an elongated sphere whereas previously it was an inverted cone.
Graphics/Interface
Increased the highlight of small wrecks.
Added a shader that automatically infers normals for units and features that lack them. It makes the units look more detailed when viewed close up.
Increased the minimum shield transparency as they would be near-invisible at very low values.
Improved the effect of the Starlight main laser.
Fixed broken unit information entries (space + click) of Disco Rave Party, Zenith, and Starlight.
Added a state toggle to Lobster to make it ignore attack commands.
Fixes
Fixed and applied the improved save game system.
Reduced the CPU load (due to terraform) of Tremor by around 50% and allocation load by around 99.5%.
Increased the amount Raven can climb against targets on cliffs. It is now much better at hitting units on tall terraform hills (up to around 1000 elmos).
Blocking the the Starlight beam from the ground station to the satellite now interrupts the beam from the satellite.
Maps with completely impassible areas now have those areas applied.
Fixed some dual-weapon friendly fire. This fixes Detriment, Envoy, Ogre, Hermit, and Siren.
Fixed a case in tactical AI behaviour that caused Scorcher to jink out of its own range.
Fixed cautious riot units (Mace, Ripper, Ogre) backing out of range of explosive structures.
Posted by




GoogleFrog
12 days ago -
comment
Zero-K v1.7.7.0 - Performance and Shading

This version is primarily aimed at large team games. The big exception is the Sparrow nerf which should address concerns about scouting being a bit too easy in 1v1. The large game changes focus on performance, interesting energy choices, and curtailing Berthas. Additionally, some of the poorer Commander weapons received buffs.
On the technical side, many bugs were fixed and the shader rewrite is ongoing. Report any issues that you experience as we were unable to test across all potential hardware setups.
Balance
Sparrow was being built too early. By making it much more expensive we hope that it will mostly appear in the midgame, and it may even be worth countering with a small amount of AA.
Cost 135 -> 235
Radar morph build power 5 -> 7.5 (20s -> 24s)
Buffed maneuverability, tightened turn circle.
Wind Generators are now much worse at high altitudes. This addresses the trivially good choice of Wind Generation on maps with large base plateaus. Singularity Reactors are now always more efficient.
The best wind range is now 1.0 - 2.5.
The minimum increases at 0.25 energy per 100 height on most maps.
The rate of increase is scaled down on maps with height difference that exceed 600.
The minimum wind height is now based partially on height of the lowest metal extractor.
Singularity Reactor is now more scoutable, snipable, and leave Fusion with the unique strength of underwater construction.
No longer able to be built underwater.
Big Bertha was a bit oppressive on maps of a particular size. Lower range forces a choice between a safe Bertha or a Bertha that can reach into your opponents base.
Range 6200 -> 5600
Aims 20% slower
Commanders
Light Particle Beam:
Riot Cannon:
Range 275 -> 300
Reload 2s -> 1.63s
Heavy Rocket:
Riot Cannon with Napalm Warhead:
DPS 86 -> 100
AoE 144 -> 170
Heavy Rocket with Napalm Warhead:
DPS 180 -> 135
AoE 128 -> 144
Leaves craters
Disruptor Ammo:
Increased Heavy Machine Gun and Shotgun normal damage DPS by 50%.
Napalm Warhead and Disruptor Ammo now consistently reduces direct damage by 25% when applied.
Interface/Graphics
Reworked the unit shading system. This allows for fancy things like emissivity and fallbacks for older hardware. Report any issues.
Disabled the click-and-hold terraform UIs by default.
The space+click unit information window now shows how much damage a status effect deals to shields, and even shows the breakdown in the case of mixed normal and status effect weapons.
All main objectives in the campaign complete when 'Victory' is declared. Note that you can still fail protection objectives if you die in the victory lap.
Zenith tooltip says that it controls 300 meteors, the correct amount.
Very low value wrecks are now less highlighted by wreck highlight.
Shields become more transparent at very low charge.
Lobby
Added a modoption to disable AI resign.
Added a modoption to disable Overwhelming Advantage.
Fixed factory rebuilding on Planet Bavhakya.
Updated the benchmarks.
Fixes
Fixed the performance regression of last week thanks to player benchmarking and updates by the engine devs.
Raven now predicts height changes when targeting units on spires or cliffs, and dives appropriately.
Terraform construction points are no longer revealed upon Overwhelming Advantage.
Added some leeway to possibly fix Widow missing (along with other melee and almost-melee units).
Fixed the Commander and factory selection bar being empty upon loading saved games.
Increased the priority of the Set Target command over Attack commands.
Significantly reduced the number of projectiles tracked by Lua, improving performance.
Fixed metalhead Gauss turret.
Applied some useless optimisation to the wind gadget and animation.
Fixed a FacBar error.
Fixed a 'spotter' unit ground halos error.
Posted by




GoogleFrog
23 days ago -
comment
Zero-K v1.7.6.0 - Maps, Balance, and Performance

This is a fairly large update with some balance changes, fixes, and performance improvements. We have also featured 78 maps to add to the variety in the teamgame autohosts. Some maps are new and some are old classics.
The main balance changes relate to frustrations in Tank vs. Rover. Capture has been reworked to make Dominatrix less uniformly good and some other units have received minor changes. Other notable changes are some Funnelweb refinements and tankier Commanders.
The notable fixes and performance improvements are a pathfinding fix for a recently introduced bug and a significantly faster outline shader. We are also working on performance improvements for the UI framework which can be enabled Settings -> Graphics -> Experimental Interface Renderer in the lobby menu. We would appreciate testing and feedback.
Balance
Commanders start with around 800 more health, and lose the bonus at higher levels. This is intended as an indirect nerf for Scythe and Raven. The power of early commander pushes will need to be watched closely.
Strike 3200/3200/3800/4600/5500/6400 -> 4200/4200/4600/5200/5800/6400
Guardian 3600/3600/4400/5500/6600/7600 -> 4400/4400/5000/5700/6600/7600
Support 2800/2800/3400/3800/4500/5000 -> 3800/3800/4000/4300/4600/5000
Recon 2400/2400/2800/3200/3600/4000 -> 3250/3250/3400/3600/3800/4000
Funnelweb is a bit cheaper and charges faster. To compensate, it has its shields lowered such that a single silo of Eos and Shockley can bypass it.
Maximum shield charge 28000 -> 23000
Shield regeneration 200 -> 300 per second.
Health 6000 -> 6500
Cost 3500 -> 3000
Turn rate 240 -> 520
Capture damage has been reworked to make Dominatrix much worse against low-to-mid cost assault units. This is to give the Tank Foundry some counterplay in the form of Minotaur. Dominatrix is mostly unchanged against units with average cost and health. It is a little better against mid-to-high cost glass cannons such as Lance and Emissary.
Capture progress is now based on the health of its target instead of its cost. The Capture Health of a unit is now its current health + 500.
Capture damage is no longer multiplied by (3 - 2*(currentHealth/maxHealth)).
Dominatrix now deals 333 DPS instead of 78. This reflects the average HP/cost of a Zero-K unit of around 3.5, as well as the 500 bonus health.
As with EMP and Disarm, accrued capture damage is scaled when a unit receives ordinary damage (or healing) such that the proportion of capture damage is unchanged.
Capture damage is now affected by armour.
All the large land-based builders now have small footprints to resolves much of the frustration that can come from navigating bases. Quill, Weaver, Welder, Mason:
Blitz:
Reload time reduced by 2.5%.
Ogre:
Damage 440 -> 420
Range 340 -> 320
Cost 520 -> 500
Felon:
Re-added the small fire delay that appeared to do nothing in testing, but seems relevant in practise.
Lobster:
Added a manualfire command that fires once. This essentially acts as a more accessible hotkey for singlefire.
Buffed turn rate by 80%.
Tarantula:
Increased weapon velocity by 36%. Still half the speed of Flail.
Sparrow:
Cost 120 -> 135 (morph time unchanged)
Health 400 -> 350
Speed reduced by 7%
Interface
Added a singlefire modifier for Force Fire commands. Issue a non-area Force Fire command with Ctrl held to fire once at the target and move on. This can be used with the Repeat command to make a unit alternate between a list of targets.
Other changes:
Static shields, jammers, and basic radar towers now have a move command that can be used to rally their mobile counterparts when they morph.
Added more options to control when reclaim is highlighted.
Sparrow and Owl now have tactical AI (activated with Attack Move and Patrol) that tells them to avoid flying over enemies, keeping them out of most AA range.
Added Morph to the ingame keybind menu.
The spectator resource display now displays teams on the side matching their side of the map (when applicable).
Added Turkish and Chiense translations. Updated Polish translations.
Reload bars no longer disappear a split second before completion.
Added mouse-directed focus to depth of field.
Line formations now trigger unit replies.
Performance
The UI framework is being updated to draw faster, but it has some rough edges. Without wider testing it is not clear that it will work, or be an improvement, on all hardware. It is disabled by default and can be enabled through the lobby menu under Settings -> Graphics -> Experimental Interface Renderer. Test it out and tell us if it works and if you see an improvement.
Here are some other performance improvements:
Updated shaders. This will change how a few things look and make it easier to improve performance in the future. For now, the main performance improvement is the replacement of the old CPU based outline widget with a much cheaper shader-based version.
Saved quite a bit of memory by cutting down on duplicate font creation.
Optimised various parts of the command menu. Replaced the, fairly expensive, unit outlines widget with a much cheaper shader-based version.
Singleplayer
AIs build antinukes earlier.
Made planet Walchice (the Stinger and Stardust mission) a bit easier on Easy and Normal.
Fixes
Fixed Funnelweb shield on low graphics settings.
Fixed ballistic weapons not shooting when told to Set Target the ground beyond their flat-ground range.
Fixed units sometimes getting stuck in the back of Cloaky, Shield, and Hovercraft factories.
Fixed campaign and tutorial marker text lagging behind camera movement.
Fixed cursor locking (grab input) not re-enabling itself when returning the focus to Zero-K.
Fixed some pathfinding issues caused by fixing a rare bug that caused other pathfinding issues.
Fixed Fender not quite dealing 40 damage per shot.
Posted by




GoogleFrog
2 months ago -
comment

RSS feed
|
news archive